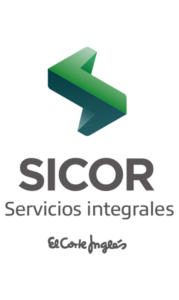 SICOR Integral Services
At SICOR Integral Services we adapt to the needs of all our clients, regardless of their sector or activity.
SICOR Integral Services is one of the companies in the SICOR Group of El Corte Inglés, whose strategic aim is based on offering added solutions and support to both businesses and individuals seeking efficiency in the so-called Facility Services. 
Tailor-made answers based on quality service
In SICOR Servicios Integrales we adapt to the needs of all customers, regardless of their sector or activity, who seek to optimize time and resources by hiring our services get a quality service.   
We provide tailor-made answers, we efficiently manage the day-to-day activities of companies, with the aim of providing added value. 
Thanks to our services, clients can boost their business by focusing on making their projects more efficient. 
We have a team of qualified and specialized professionals, with a great analytical vision and strategic capacity. Our experts work day after day to make SICOR Integral Services your reliable partner.   
Specialized in Facility Services
With more than two decades of experience, we provide solutions to meet the needs of our customers by integrating ancillary services and preserving the specialization of each of them.
Our aim is to offer the optimization of resources, which leads to a higher profitability of the company, able to preserve the quality, flexibility and efficiency in the daily activity.
On many occasions, a company has doubts when it comes to making decisions such as, for example, how many people it needs to carry out a task or how long it needs to cover certain demands, among others. In these situations, having a solvent auxiliary services company such as SICOR Servicios Integrales is essential, as it has the capacity to react to any unforeseen event.  
Under the umbrella of advice and personalised attention, at SICOR Integral Services we facilitate the management of companies so that they can meet their business objectives. 
Our main services
In SICOR Integral Services we offer different services: 
Hostesses, Promoters, Concierges, Control Assistants, Drivers, Fleet Management, Telephone Operators, Receptionists, Chauffeurs and escorts, among others.
our specialities
The advantages of SICOR Integral Services
Facility Services help the day-to-day management of companies and individuals. What are the benefits of working with SICOR Integral Services?
More than 20 years in the market and with the guarantee of El Corte Inglés. These are two key factors that determine the success of SICOR Integral Services and the trust and loyalty of our customers.
We are experts in offering customized solutions to meet the most specific needs and demands. Our services meet the expectations of our clients!
Hiring the services of SICOR Servicios Integrales means profitability for any company. We offer the essential services for each client. Our services are guaranteed by professionals of total confidence and with a high capacity of reaction. 
Any type of incident is resolved immediately and without any delay in the time and operability of our customers. 
Our services help companies and individuals to focus on their core business and not worry about other secondary factors related to their projects. 
Facility Services, safe and quality solutions.