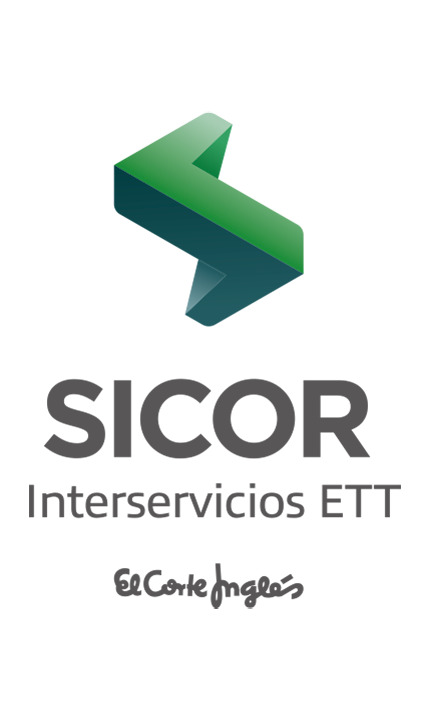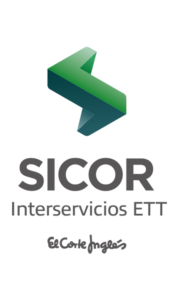 SICOR INTERSERVICIOS ETT
Specialised in finding the talent you need and the job you are looking for.
Through SICOR Interservicios ETT, a temporary employment company of the SICOR Group of El Corte Inglés, we connect people and companies, thus promoting the talent of professionals in companies that aim to continue growing and facing new challenges to improve their competitiveness through talent.
With extensive experience in the world of Human Resources, attracting talent through the search for professionals, specialising in the sectors of logistics, warehousing, commercial guidance, promotion-commercial, jobs and support for any commercial service, to develop on a personal and professional level in companies where their profiles are best suited.
We are experts in Human Resources and we are in constant training to be able to advise both companies and workers to find the right person for the required position.
We strive to understand the concerns and professional goals of each of the interviewees who wish to join our shortlist of candidates, to understand the challenges they have faced in previous positions in order to find a job for them.
We analyse your training, experience, professional skills, motivation and ambition, as well as your personality to ensure your full integration into the company.
We ensure the correct selection of profiles according to the demands required by the company, working together with the needs that the future worker will cover.
Knowing that companies need to incorporate workers quickly to cover needs, we shorten our selection times by having a pool of workers available to meet their requirements.
We are an agile ETT, capable of meeting the production requirements of our clients by incorporating the right talent to meet them.
The objectives of SICOR Interservices TEA
To contribute to improving the competitiveness of companies by providing them with the best talent to help them achieve their business objectives.
Our database of available candidates is constantly updated in order to provide the company with the right person for the job in the required timeframe.
We provide training for employees, keeping them up to date with emerging processes, techniques and technologies that enable them to be more employable.
Our success, customised solutions
In order to move away from the standard services of most temporary employment agencies, at SICOR Interservicios ETT we offer innovative tailor-made solutions based on personalised advice.
When looking for talent, we assess the strategies, ideals and objectives of companies in order to select candidates who share our clients' commitment and values.
Our aim is to find the right talent to meet the needs of the company and to provide new employees with professional opportunities and experiences that will allow them to grow professionally and personally.
We have our own methodology, which is characterized by offering excellence, quality and continuous improvement with the support of the SICOR Group.
SICOR Interservicios ETT, from professional to professional, meeting the needs of businesses in times of activity.
The result: fast, competitive and flexible responses!