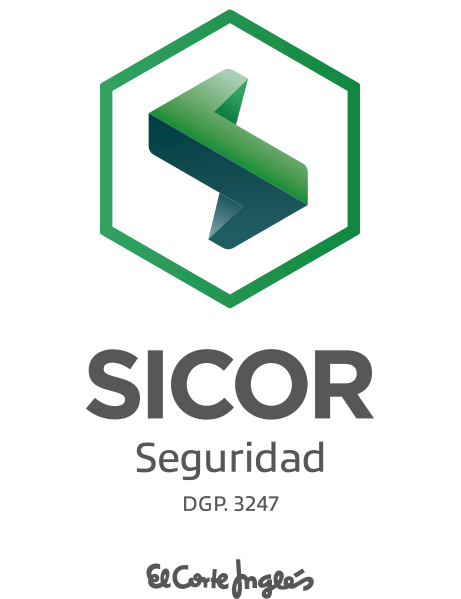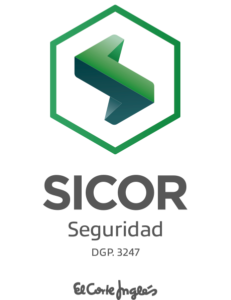 Sicor security
Security company of the El Corte Inglés Group
Through SICOR Seguridad, the El Corte Inglés Group's security company, we provide integrated and personalised responses to any security needs that our clients may have in the personal or business sphere. 
Areas of action
As a security company, we provide different services related to the field of protection. 
Feeling protected is very easy, just contact SICOR Security!

We provide security services of different types, either through security guards with or without weapons, personal protection services and escorts, or through the support of the canine unit, which allow us to ensure the safety of goods and people. 

We work under the strictest standards of execution of methodologies and regulations, guaranteeing Integral Services in areas such as engineering and design of solutions, installation and maintenance, Cybersecurity, ARC, Telecare and pre and post sales service.
Alarms - Call 900 533 941 or send us an email to contacto@sicoralarmas.com 
The combination of both options makes it possible for us to provide a high quality and 100% secure service.
Integrated, customized answers for any security need
With more than 20 years of experience, at SICOR Security we design both the security chain and various specific services adapted to the most demanding requirements. To do this, we develop a comprehensive and tailor-made system, on which we build the so-called circle of security. 
Protecting is the DNA of SICOR Security. With the most advanced and innovative technology in Security and together with our team of professionals, we are able to offer all kinds of solutions to meet the needs of our customers.
The value and differentiation of SICOR Security is based on knowledge of the client's business, experience in coordinating extensive security arrangements and in the formation of specific programs through the implementation of plans and processes that ensure peace of mind, comfort and, of course, the security of individuals and legal entities.
our specialities
Why SICOR Security?
Discover the benefits of SICOR Security, a consolidated company with clients who have trusted us for more than 20 years.
Professionals specialized in all areas of security are part of SICOR Security, as ensuring the peace of mind of our customers is our priority. We offer security 24 hours a day, from any location and with direct connection to our Control Centre, in order to meet the most specific needs.
We have the largest and most efficient Control Centre, equipped with the latest technology in communications, security, video surveillance, alarms and a long etcetera. 
The combination of the professionalism of our team with innovative and technological solutions is the formula for success in SICOR Security where we provide quality services. 
All our services are guaranteed by SICOR Security and backed by El Corte Inglés .
Taking into account the requirements and the constant evolution of the security sector in a global context, our aim is always to place our customers at the heart of any strategy to meet their security requirements.
Our analytical and flexible capacity allows us to provide efficient and agile responses when it comes to integrating security systems into optimized solutions to improve cost and time management and, above all, to offer maximum protection.
New Telecare service for home and abroad!
We provide security services 24 hours a day, 365 days a year, to offer complete protection in a proactive, fast and personalized way, from a global and versatile point of view.