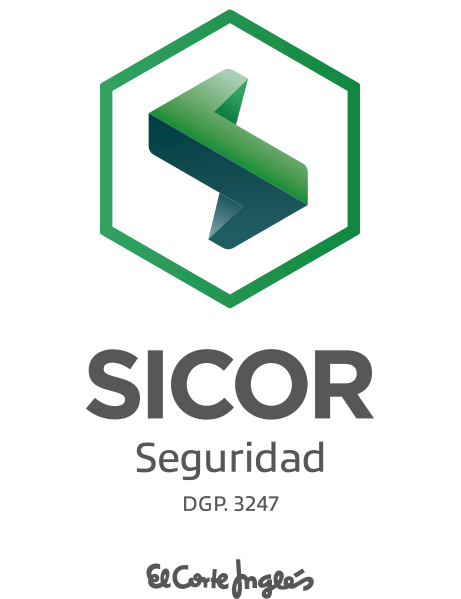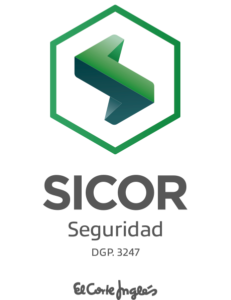 Electronic security
SICOR alarmas El Corte Inglés, sistemas para hogares y empresas
En SICOR alarmas El Corte Inglés trabajamos bajo los más estrictos estándares de ejecución de metodologías y normativas, garantizando a los clientes una excelente gestión de costes, tiempo, alcance y calidad. 
Human and technological resources available to our clients 24 hours a day.
Through the parameters of efficiency and responsibility, we provide comprehensive, tailor-made services to guarantee complete protection for homes and businesses .
In addition to standing out for offering services related to the areas of Engineering and Design of solutions, Installation and Maintenance, Cybersecurity, CRA and Pre and After Sales Service, we integrate all security systems into one, in order to provide customised solutions.
Entre los clientes de SICOR alarmas El Corte Inglés, encontramos tanto particulares como empresas de cualquier tipo de sector (Banca y Seguros, Industria, Energía, Logística, Transportes, Distribución, Retail, Centros Comerciales, Sanidad, entre otros). En este aspecto, nos adaptamos a las necesidades de cada uno de ellos para continuar ofreciéndoles nuestro expertise en seguridad y en todos sus ámbitos. 
outstanding services
La seguridad electrónica gracias a SICOR alarmas El Corte Inglés
A través de SICOR alarmas El Corte Inglés, área de seguridad electrónica de SICOR Seguridad, protegemos hogares y empresas con la tecnología más avanzada en Alarmas para que las preocupaciones de no sentirse seguro desaparezcan al completo. 
Tailor-made Security Services with the latest technology from El Corte Inglés
We have the most advanced technological and professional capacity on the market, which is why clients such as El Corte Inglés, for more than 10 years, have trusted us to protect their buildings, without forgetting their employees and clients. 
Our services are comprehensive and personalised, where everything is included. In addition, thanks to our Alarm Reception Centre (ARC), we provide solutions 24 hours a day, 365 days a year. 
But what do we offer with our services?
Home Alarms
En SICOR alarmas El Corte Inglés estamos especializados en dar la respuesta más eficaz en la protección de su hogar, disponemos de tecnología de última generación que nos permite alcanzar niveles de protección desconocidos hasta ahora.
The security of your home IN GOOD HANDS
Taking into account the characteristics of the homes, as well as the security demands of each client, we offer alarm kits for flats, attics, ground floor flats, chalets and terraced houses.
Helpdesk Service
En SICOR alarmas El Corte Inglés tenemos el compromiso de mejorar los niveles de protección de tu vivienda. Gracias al servicio de Acuda de intervención inmediata con vigilante de seguridad. podemos verificar y comprobar las causas de los saltos de alarmas, además, con el Servicio de Custodia de llaves, tendrás la máxima protección en todo momento.
Alarms for companies
Companies are exposed to a variety of external and internal threats, which can lead to serious material and personal damage, jeopardising the security of the business and the protection of employees and customers.  
Para evitar estas situaciones, en SICOR alarmas El Corte Inglés contamos con los sistemas de seguridad más avanzados para las empresas, con el objetivo de constituir un lugar de trabajo seguro.
El equipo de SICOR alarmas El Corte Inglés se encarga de todo el proceso que conlleva la instalación de las alarmas para su empresa, asesorando y ayudando al cliente en todo lo que requiera. 
Alarms for businesses and SMEs
After conducting a security study, we determine the best security systems for your business or SME, providing exclusive services focused on comprehensive security and cybersecurity. 
Alarms for large companies
En SICOR alarmas El Corte Inglés, no nos olvidamos de proteger a las grandes empresas, teniendo en cuenta que por su tamaño y características suelen sufrir más intrusiones, robos y ciberataques. Ante esta realidad, damos respuestas innovadoras en áreas como soluciones de seguridad, seguridad integral y ciberseguridad, optimizando así los beneficios y la competitividad de las compañías.  
Engineering and design solutions
Una de las áreas esenciales en SICOR alarmas El Corte Inglés es la de Ingeniería y Diseños de soluciones, puesto que es la base en la seguridad electrónica. 
To this end, we provide our clients with the Projects department, made up of a team of specialists such as managers, engineers, draughtsmen, planners and sales representatives, who are responsible for designing, preparing and managing the projects and safety solutions, from the first contact and data analysis to the final delivery of the work.
The fact that we provide state-of-the-art solutions and high quality in the implementation of the project is our guarantee, we have more than 20 years of experience.
We work with first class manufacturers and products, we have the most advanced technological means on the market to optimise your business and sales processes.
Installation and maintenance
Tras conocer las necesidades del cliente, en SICOR alarmas El Corte Inglés nos encargamos de la instalación y mantenimiento de los sistemas de seguridad contratados, los cuales cuentan con una total garantía que aseguran su funcionamiento siempre en perfectas condiciones. 
SICOR alarmas El Corte Inglés
We have a great technical capacity and accumulated experience in the installation of cameras and complex security systems.
Anti-intrusion systems
We are specialists in the installation of systems, which either individually or integrated with other subsystems, provide total security for our clients' goods or installations:
Closed Circuit Television (CCTV)
We install the most sophisticated CCTV systems, working in IP environments and we always develop our projects based on the most modern and efficient technologies, hand in hand with the leading manufacturers of CCTV equipment:
In addition, and due to the relationship of mutual trust, we have been recognised as a Gold Partner of the main brands in the market.
Access control
We provide solutions to any need to control access to your facilities or properties:
Personal access control:
Time and attendance control:
Vehicle access control:
Anti-theft systems
We offer our clients our experience in the study of the improvement of their management and safety processes:
We provide state-of-the-art, high quality solutions based on the simplicity of their implementation.
Other systems
We offer our clients the possibility of adding to their customised projects a series of services and systems that we can undertake with all the guarantees of success and quality:
Integration
We configure the security solution and services that each client requires and needs:
The importance of cybersecurity
Una amplia experiencia, capacidad tecnológica y avanzados recursos hacen que en SICOR alarmas El Corte Inglés garanticemos la seguridad de la tecnología de la información en un mundo digitalizado donde los ciberataques cada vez son más recurrentes.   
PREVENTION - LOCATION - REACTION - SUCCESS
With the aim of providing innovative solutions to companies from different sectors of activity and of any size (businesses, SMEs, large companies), at SICOR Seguridad we secure your business in the digital environment, designing fully customised cybersecurity protection plans .
We offer tailor-made services such as continuous advice, specific audits, monitoring and follow-up, preventive actions or remote assistance, among others. 
Under a commitment to rapid detection and proper defence management, we address active cyber-attacks from a technological perspective, avoiding the following problems:
SICOR Security's priority is to avoid potential threats and damage and, should they occur, to minimise them, thereby defending the corporate and business reputation of the business.
Our CRA, the cornerstone of SICOR Security
At SICOR Seguridad we have an Alarm Reception Centre and a personalisedservice that allows us to extend the security options we offer.
ARC
Alarm Reception Centre
Our installation is prepared to receive and attend all the signals emitted from the alarms connected in the customers' homes and businesses.